The Paxiom Group has been around the block for quite some time now. With over 5,000 packaging machinery solutions installed in different places in the world, our company takes pride in building long-lasting relationships founded with hard work, integrity, and unrivaled expectations.
Our automated packaging machines can be categorized into four areas:
Weigh Filling
Primary Packaging
Secondary Packaging
End-Of-Line Automation
We also handle the sales and service for industry leaders in the packaging industry including EndFlex, WeighPack, and ValTara.
Weigh Filling Machinery Packaging Systems
Net Weigh Filling
Our PrimoLinear product line of automatic net weigh filling machine is capable of dispensing and filling several product types into jars, trays, bags, boxes, cartons, and containers. Perfect for mid-range production requirements, the PrimoLinear comes in standard with a stainless steel frame, tool-less removable contact parts, a tool-less tilting hopper, and many other standardized components. This is done so business owners save on their maintenance expenses.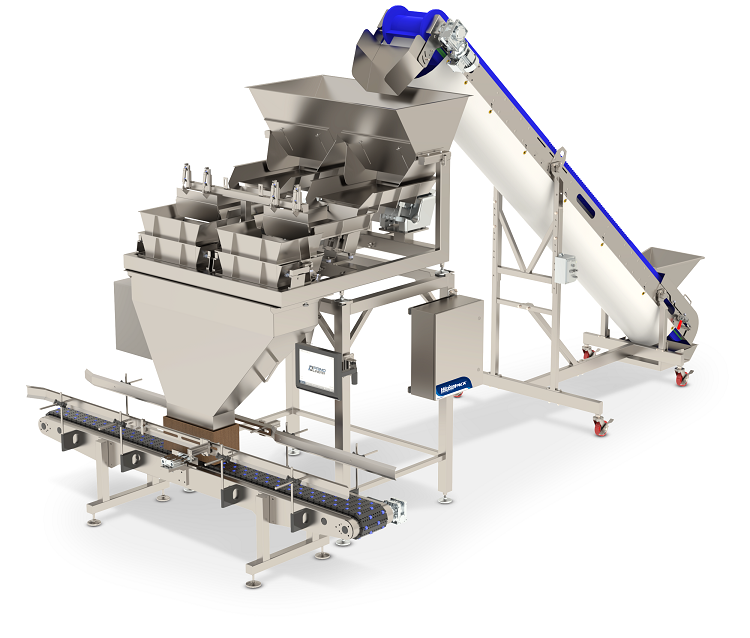 Our net weigh filling packaging machines are as follows:
PrimoLinear V-mini – for production needs up to 40 cycles per minute and a bucket volume requirement of 200 ml
PrimoLinear V-5 – for production needs up to 40 cycles per minute and a bucket volume requirement of 5 L
PrimoLinear V-25 – for production needs up to 16 cycles per minute and a bucket volume requirement of 25 L
PrimoLinear C-10 – for production needs up to 14 cycles per minute and a bucket volume requirement of 10 L
PrimoLinear C-25 – for production needs up to 12 cycles per minute and a bucket volume requirement of 25 L
Multihead Weighing
Combination scales, or also referred to as multi-head weigher, are typically used for production applications that demand maximum throughput and accuracy. The PrimoCombi multi-head weigh packaging machinery system comes in four head configurations such as 10, 14, 16, and 24.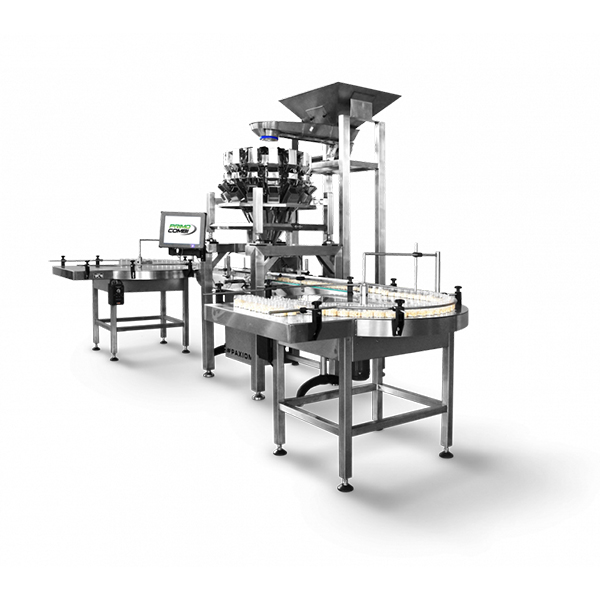 Our combination scales are manufactured in three models:
PrimoCombi Small Bucket – for production needs up to 150 cycles per minute and a bucket volume requirement of 0.5 L
PrimoCombi Medium Bucket – for production needs up to 150 cycles per minute and a bucket volume requirement of 2.5 L
PrimoCombi Big Bucket – for production needs up to 60 cycles per minute and a bucket volume requirement of 5 L
Auger Filling
For production applications that involve the handling of powders and granules, we have our Star Auger packaging machinery. This automatic filling machine is designed with versatility, speed, and precision in mind. It is built to work well with your specific requirements.
Constructed with stainless steel and equipped with easy-to-remove tooling and hopper, our auger filling packaging machines are widely used when dispensing and portioning coffee grinds, sugar, powders, salt, baking mixes, and the likes. These packaging systems are also equipped with custom-designed screws to accurately determine the number of revolutions necessary to reach your desired product weight.
Volumetric Filling
Also known as liquid filling packaging systems, our volumetric filling machines come from the ValTara monoblock family that is designed to fill and cap oil liquid.
We offer them in two models: one, designed for production rates of up to 30 containers per minute, while the other is built for speeds of up to 60 containers per minute. Our liquid filling packaging system functions as a liquid filler, a cap inserter, and a cap closer. Apart from liquid products, this type of packaging machinery is also ideal for essential oils and CBD oils.
Primary Packaging Systems
Vertical Form & Seal
As part of our primary packaging solutions, we have our vertical form, fill, and seal family of packaging machines that come from industry-leading brands. They are designed to work on an array of food products including seafood, snack food, cheese, candy, confections, poultry, and more.
Our machines that make use of the vertical form, fill and seal technology are as follows:
VerTek 800 – designed for vertically sealing bag sizes of up to 8" wide
VerTek 1200 – designed for vertically sealing bag sizes of up to 12" wide
VerTek 2400 – designed for vertically sealing bag sizes of up to 24" wide
XPdius Elite 130 – designed for vertically sealing bag sizes of up to 13" wide
Horizontal Form, Fill & Seal
Our horizontal packaging machines function by forming, filling, and seal pouches in a single automatic process. We only have one model for all our horizontal bagging machines and that is the high-performance R2B bagger. Like most of our machines, the R2B is designed with servo technology. Also, it's capable of producing and sealing different pouch styles including stand up, 3-side seal and 4-sided seal pouches with zipper enclosures.
Pre-Made Pouch Bagging Packaging Machines
When packaging your products, you have the option to use either pre-made pouches or machine-made pouches. Regardless of your choice, our company can satisfy your production needs. But for pre-made pouch filling applications, we have a wide selection of packaging machines for these solutions. They are all engineered to operate on several bag styles such as gusseted, quad seal, 3 or 4-sided seal, wicket, and stand up bags.
Available in 6 models, we offer the following:
Swifty Mini – capable of completing 18 cycles per minute
Swifty Junior – capable of completing 15 cycles per minute
Swifty 1200 – capable of completing 30 cycles per minute
Swifty 3600 – capable of completing 45 cycles per minute
Bingo Bagger – ideal for products that require nitrogen flushing and/or vacuum packaging
Zippy Bagger – designed for products that require wicket pouch filling
Flow Wrapping Machines for Packaging
Another type of horizontal packaging system is the flow wrapping packaging machines. Coming from the versatile SleekWrapper brand, these flow wrappers are engineered to match with your production budget, needs, packaging type, and space constraint.
Sleek 40 – an entry-level flow wrapper that's commonly used for small to medium production needs
Sleek 45 / 65 – both are high-performance packaging machines that are perfect for vigorous production needs
Sleek Inverted – engineered to work on meal kit packaging and unique product types that are hard to push with the lug chain design
Breezy Bagger – capable of using horizontal wrapping and vertical bagging technology
Secondary Packaging Machine Systems
Corrugated Case Erecting
Our corrugated case erecting solutions are available in various models. For starters, we have the Boxxer Case Erectors that erect and seal cases with either glue or tape. This family of case erecting packaging machines is reliable and easy to use, not to mention inexpensive to maintain.
Boxxer Tablock – an automatic case erector specifically designed for tab lock cases
Boxxer MINI FOL – works to erect and glue wine and alcohol cases
Boxxer T-18 – automatic packaging machinery that erects and tapes cases
Boxxer T-12 – a compact case erector that tapes cases and uses a powered hopper
Corrugated Tray Forming
Our Vassoyo tray forming series manufactured by one of our brand partners, EndFlex. These tray formers are all automatic machines that are built for the most demanding production environment.
VassoyoAir – a tray former that operates on Breaker and Column Case style trays.
VassoyoAir Triangular Corner Post – a tray former that seals triangular corner post trays using glue
Carton & Chip Board Forming
Built to form, tuck, and close cartons and chipboards, the Boxxer Kartner is a vertical cartoning packaging machinery. This versatile machine is capable of working on tucked cartons, glued cartons, and auto-lock/pop-up cartons. Depending on your preference or production requirement, you can opt to use to hand load or automatic model of Boxxer Kartnr.
Tape or Glue Sealing
For our case sealing packaging solutions, we have the EZ sealer series. Our case sealers are designed to load your product-filled erected box and seal either the sides, bottom, or top of the corrugated case or tray.
End-of-line Automation Packaging Systems
Pick and Place Case Packing
From secondary packaging to end-of-line packaging solutions, the EndFlex brand remains unwavering. Pick up and drop off your cases and trays with our reliable packaging systems that accommodate a variety of production requirements and pack configurations.
This modular case packing system can be used in addition to your current production line or as part of a complete packaging solution. It's capable of picking and placing widgets, containers, bags, and many more.
Drop Packing Case Loading
Another robotic case packing solutions that we offer is our drop packing system. It can be seamlessly integrated with any case erecting system. This compact drop packer runs on various products at your desired output. Our drop packing case loading will automatically case pack your cartons, pouches, bags, containers, boxes, and more.
Side Load Case Packing
Part of our case packing and loading solutions is our side load case packaging systems. This particular case packing cell is normally used for higher production rates and products that need delicate handling. Be it jugs, boxes, containers, or cartons, our side load case packer is more than capable of packing them.
Upstack Case Packing
Also known as the bottom load case packer, this compact packing machine is designed to perform several processes including erecting, forming, loading, and sealing.
Our versatile end-of-line packaging machinery systems are engineered to fit your specific production requirements and can operate on a large selection of products, all the while significantly boosting your productivity.
Client Video Testimonial
Watch the video below to see Terra Cotta Cookies owner Jason Brass share his experience about working with Paxiom. He explains how utilizing our packaging machinery solution in his "made from scratch" baked goods company has taken his business to "the next level".
https://www.paxiom.com/wp-content/uploads/2019/10/1.jpg
600
600
Bob
https://www.paxiom.com/wp-content/uploads/2019/12/Paxiom-Group_Logo.png
Bob
2019-10-21 14:06:58
2019-12-05 14:17:45
Packaging Machinery