MEAL KIT AND INGREDIENT PACKAGING MACHINES
With hundreds and sometimes thousands of SKU's, you need the ability to package a large variety of products in varying run sizes, package types and sizes. At Paxiom we get it! We offer the widest variety of automated packaging solutions for filling, wrapping, bagging, conveying, cartoning and case packing. Our solutions can be as flexible, compact and as fast as you need them to be while being supplied, delivered and serviced by one company!
We have delivered over 5,000 packaging machines globally for many of the same products your customer's enjoy daily!
INGREDIENT BAGGING MACHINERY
Vertical form, fill & seal technology offers flexibility, reduced material cost and a compact footprint while packaging a wide variety of products including ingrediants, snacks, fruits, vegetables, frozen foods, spices, powders and more.
Easily integrate's with our five filling solutions:
1. PrimoCombi multihead weigher for high speed and accuracy requirements
2. PrimoLinear net weigher for low to mid production rates
3. Star Auger for powders, sugar and spices
4. Liquid filler for sauces and condiments
5. Incline smart conveyor for hand loading specific product counts like garlic cloves or whole onions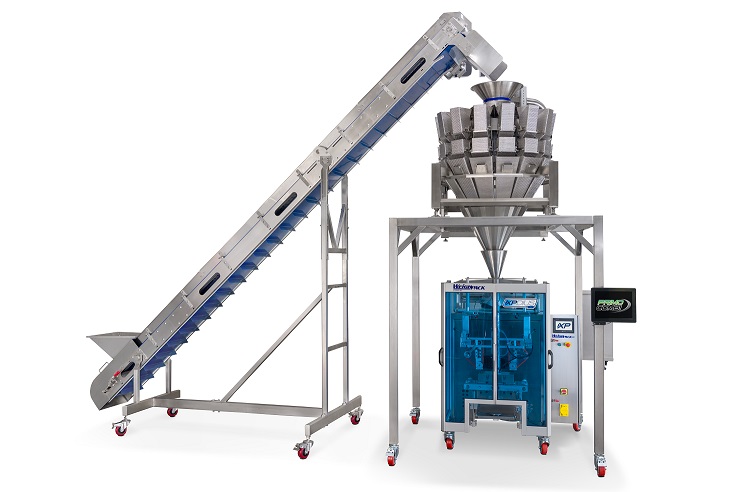 Sleek 40/45/65
Available in several models based on production rates, the Sleek flow pack machine is perfect for solid products like bars, snacks, bread, cutlery and more.
Sleek Inverted flow wrapper
Designed for flexibility a well as difficult to wrap products that tend to vary in shape and size. Often used for produce like herbs, green onions, carrots and asparagus as well as wrapper complete meal kits with drink box!
The Sleek Inverted flow packer can run in three modes: Eye mark with photo cell, set length with encoder or auto detect for random length products.
Breezy Bagger
The most flexible hand load wrapping machine on the market today, the Breezy Bagger can pivot both horizontally and vertically depending on the product you need to load. Extremely compact, the Breezy is great for package most any food product that required a laminated package.
The Breezy flow packer can run in three modes: Eye mark with photo cell, set length with encoder or auto detect for random length products.
FILL CONTAINERS WITH EASE
Fill containers, cups, jars, clamshells or tubs.
Our automated container filling and packaging machines are designed for all varying sizes, shapes and production needs.
Offering several packaging technologies including straight line or rotary indexing conveying, we can dispense solids, powders and liquids.
Note that we also offer automatic capping machinery, labeling machines and induction sealers.
NO LONGER MAKE BOXES
&

TRAYS BY HAND
Automate shippers and cases We offer a wide variety of automated end of line corrugated packaging machines for erecting cases and forming trays with lids.
Boxxer Series for automatic RSC case erecting with bottom taping or gluing.
EZ Tape for top and bottom case sealing
PopLok tray forming machine for die cut trays commonly used for e-commerce and home delivery
Our end of line packaging machines are tailored to your needs based on desired case design, production output and floor space.