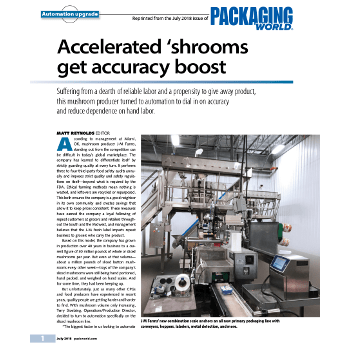 According to management at Miami,OK, mushroom producer J-M Farms,standing out from the competition can be difficult in today's global marketplace. The company has learned to differentiate itself by
strictly guarding quality at every turn. It performs three to four third-party food safety audits annually and imposes strict quality and safety regulations on itself—beyond what is required by the FDA. Ethical farming methods mean nothing is wasted, and leftovers are recycled or repurposed. This both ensures the company is a good neighbor in its own community and creates savings that allow it to keep prices consistent. These measures have earned the company a loyal following of repeat customers at grocers and retailers through out the South and the Midwest, and management believes that the J-M Fresh label imparts repeat business to grocers who carry the product. Based on this model, the company has grown in production over 40 years in business to a current figure of 30 million pounds of whole or sliced
mushrooms per year. But even at that volume about a million pounds of sliced button mushrooms every other week—trays of the company's sliced mushrooms were still being hand portioned, hand packed, and weighed on hand scales. And for some time, they had been keeping up.