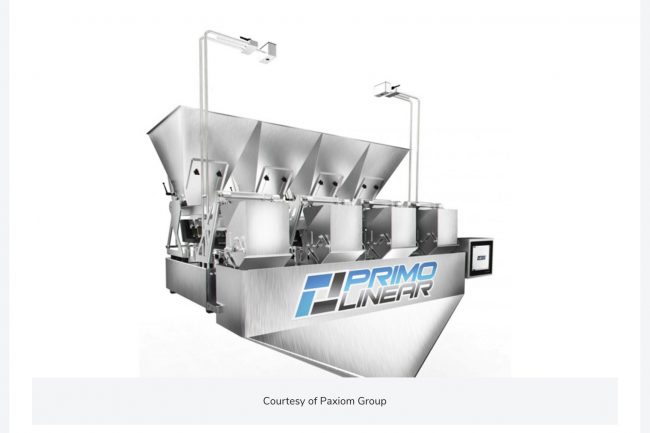 Advancements in smart bakery-ingredient packaging machines
Ingredient packaging machines feature the newest in sanitation and provide easy maintenance.
By Neal Lorenzi
April 27, 2021
Sanitary design, high levels of accuracy, easy maintenance and smart technology are features of new ingredient packaging machines, which process snack and bakery ingredients such as spices, flour, grains, and sugar. The equipment also is compatible with sustainable packaging solutions.
Paxiom Group, Las Vegas, offers ingredient-packaging solutions that range from bulk powder/solids weighing, bagging, pouch filling, and container filling to end-of-line case packing and palletizing.
Paxiom Group engineered its V (vibratory) and T (tote filling) Model 25 automatic weigh filling machines for large-format filling applications. Built to handle 5 lbs. to 50 lbs., the PrimoLinear is suitable for wholesale, institutional, and foodservice requirements. Common packaging applications include weighing and filling of candy, frozen foods, fruits, baked goods, snack foods, and ingredients. Paxiom Group notes the equipment's PC controls allow for unlimited recipe storage.
The Star Auger filling machine from Paxiom Group is used in applications that require portioning and dispensing of powders, spices, flour, sugar, salt, baking mixes, and products with similar characteristics. The auger fillers use servo drives, and include stainless steel construction, easy-to-remove tooling and a center opening hopper that allows for simple cleaning and maintenance. The machine can be integrated with auxiliary packaging machines such as vertical form/fill/seal, pre-made pouch fillers, and container indexing conveyors.
The PrimoLinear C and IW Series weigh filling machines are designed to weigh/fill sticky, damp, wet, and difficult-to-move products, as well as those that require gentle handling. The series uses conveyor belts as opposed to traditional vibratory feed pans to carry product to the weighing station. "Manufactured in stainless steel, our conveyorized weigh filling machines are available in single- and twin-lane configurations, depending on speeds. Standard features include stainless steel frame, easily removable conveyor belts, and large color touchscreen," says Val Miller, digital marketing specialist and project manager, Paxiom Group.