BY MATT REYNOLDS
Nature's Grace and Wellness (NGW) is one of the first large-scale medical marijuana licensees in Illinois. In fact, the company was the first cannabis cultivation center to receive its license and be approved to bring in plants in the summer of 2015, all part of that year's Compassionate Cares Act in the state. Subsequently, the brand was one of the first to supply medical marijuana to the market in the fall of 2015. Tim O'Hern, co-owner, COO, and General Council runs the business with his wife, Claire O'Hern, Operations Manager & Chief Compliance Officer.
The two had a solid head start and leg-up when Illinois eventually passed legal adult-use cannabis in 2020, and have grown the business exponentially in their short seven years. "We're a bit unique in that we're a family-owned and -operated company," Tim O'Hern says. "We're located in rural Illinois, here on our family farm, and we began to grow gradually with the Illinois Medical program, which was much smaller than anybody anticipated at first. But it did begin to gather steam in 2018 and 2019. And then, that folded into adult-use cannabis in 2020. Our facility has expanded and grown with the market."
And grown the company has. After a start in late 2014 in a 25,000-sq-ft workspace, NGW now has facilities that add up to more than 300,000 sq ft. That much space allows for a full range of legal cannabis formats.
"In terms of our core competency, we produce a wide array of cannabis products, both for the medical and adult-use market in Illinois," Tim O'Hern says. "That includes flower products, pre-rolls [or joints], blunts [larger joints], vaporizers, edibles, topicals, concentrates, and a lot more. We produce the full array of cannabis products out of our facility, and we distribute our products to licensed dispensaries throughout the state. Our products can be found on over 98% of dispensary shelves throughout the state of Illinois.
"Product development is ever-evolving in the cannabis market because it's such a new and undeveloped industry, for the most part," he adds. "We're constantly broadening the variety of products that we offer in each of the categories that we play in. We tend to look at the categories as flower products, vape products, concentrate products, and edible products. And we've got a much broader range of product SKUs in each of those categories now than we would have previously, before adult use."
Old-school pack format still popular
Even in an expanding market with all sorts of new edible, topical, or vape products becoming available, one of the top sellers by volume remains an original: the paper-wrapped pre-roll of milled cannabis flower.There are several market reasons for this. First, the pre-roll existed as a standard SKU even in the early days, since the very beginning of many states' legal cannabis programs—mostly early medical marijuana programs. That means that a certain early-adopting segment of medical cannabis consumers became familiar with the pre-roll as a preferred method of cannabis consumption. Producers tell us there's a unique level of ritual and brand loyalty in this space, both in medical use and legal adult use. Also, pre-rolls are a vehicle for very lightly processed cannabis flower; usually the only processing consists of grinding to a certain consistent granularity. This appeals to many consumers—both adult use and medical—that are seeking natural, unprocessed food, beverage, and other products. There's a large overlap in cannabis use with the natural, unprocessed movement, and these folks often prefer to consume the flower in as close to its natural state as possible.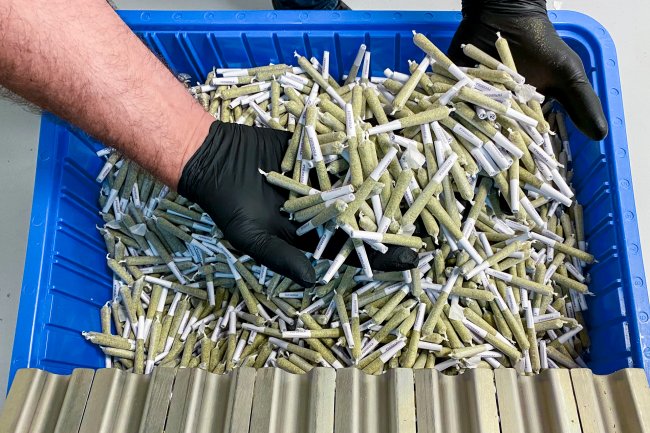 Finally, there are a lot of new entrants to the now-legal adult-use cannabis market that harbor the desire to consume the natural flower (as opposed to more processed extracts), but they lack the skills, tools, know-how, and confidence to roll their own joint. Pre-rolls remove that barrier.
"While some people have experienced cannabis for several years or decades, what's exciting about being in the cannabis business, generally, is that we are experiencing new consumers every day. In many instances, they have never tried cannabis before and now are able to walk into a legal dispensary and purchase it," Tim O'Hern says. "And if you prefer to consume flower products, it can be intimidating buying an eighth ounce of flower that you've got to break down yourself and inhale. And pre-rolls are a lot easier way for folks to consume and get comfortable with the product."
All these factors contribute to keeping the trusty pre-roll cannabis flower packaging format a top seller in the cannabis market, even during a wave of new cannabis product development.
Legacy system and need to automate
The specific brand of pre-roll produced at NGW is called Slims. It is available in a large, 1-g Slims XL pre-roll that uses a J-tube (capped cigar tube) as secondary packaging, or more modestly sized 0.5-g Slims, with a five-count of pre-rolls nestled into a branded paperboard slide tray as secondary packaging. Until recently, packaging cannabis flower in pre-rolls at NGW was a labor-intensive, semi-automatic process requiring the heavy allocation of skilled craftspeople deployed alongside tabletop-style equipment.
The original piece of equipment that was used to fill pre-rolls with cannabis consisted of a knockbox-style cannabis flower loader. This type of system uses two cartridges stacked on top of one another, both sitting on a vibratory table. The lower cartridge held unfilled pre-roll cones, the upper held the milled cannabis flower product to be filled into the cones.
First, an operator hand-loaded loose, empty pre-roll cone wrapping papers into the lower cartridge, which consisted of a matrix of circular cone-holding slots in a given pattern (say a 20×30 grid, for example). Once all the pre-roll cones were loaded into this lower cartridge, the second, product-filled cartridge that sat atop the lower cone cartridge would be clicked into place. Finally, the vibratory table underpinning the system was switched on to gently shake the ground flower, sifting it from the upper cartridge down into the pre-roll cone wrapping papers waiting in the lower cartridge. The filled cones were then hand-twisted and manually packaged in secondary packaging.
An updated version of the original knockbox system was able to significantly increase output, up to 5,000 pre-rolls per week, with nine individuals all working at once. Still, the process was labor intensive.
Meanwhile, demand was growing. And as skilled as the labor was, there was always some unavoidable human error, or inconsistency and variability from operator to operator. Highly repeatable, automated equipment, however, could take that inconsistency out of the equation.
"When we expanded, and the adult-use market was expanding, is when we chose to begin to look at automation," says Claire O'Hern. "This was not only to be able to meet market demands, but also prepare and sell a consistent product."
"That was further compounded by the pandemic, when labor became tougher and tougher during that stretch," adds Tim O'Hern. "We began emphasizing exploring automation wherever we could."
This led to research into fully automated pre-roll systems, and soon the O'Herns came across the JuanaRoll machine by OEM WeighPack Systems Inc., part of the Paxiom Group.
"There are only a few companies out there that make equipment such as the JuanaRoll. And the JuanaRoll seemed to have been in the market a little bit longer, and they had worked out some kinks that we were seeing with other pieces of equipment," Claire O'Hern says. "That's why we chose to go with Paxiom's JuanaRoll."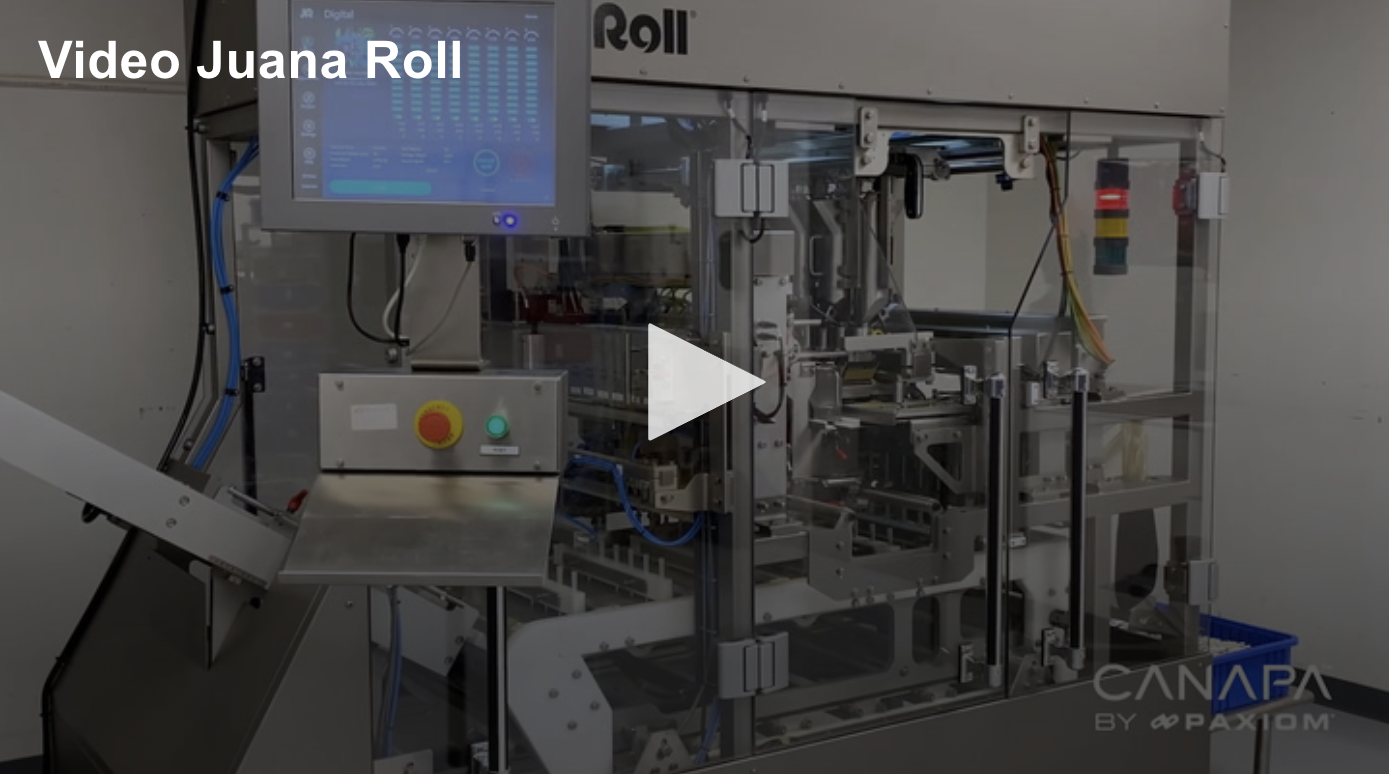 Supply chains challenges
One of the reasons the O'Herns were seeking to automate the pre-roll packaging process in the first place was to help alleviate an already tight labor market that only became scarcer during the pandemic. It turned out that the pandemic impacted the machine buying process as well. Luckily, some clever interactions between NGW and Paxiom made the process as smooth and painless as it could have been, all things considered.
First, WeighPack's 70,000-sq-ft manufacturing facility is headquartered in Montreal, Quebec, and the Canadian borders were shut for most people during much of the pandemic.
"We actually didn't see the JuanaRoll in action with cannabis prior to purchasing it," Claire O'Hern says. "We were able to test it virtually [in a virtual Factory Acceptance Test] since travel wasn't really occurring."
Also, Paxiom has physical locations throughout the U.S., including its 50,000-sq-ft corporate headquarters and integration center in Las Vegas, as well as its Xperience Center in Milwaukee, a few short hours from mid-state Illinois. This would result in convenient service and training support from Paxiom's Jesse Blazek while and after the machine was being commissioned, as NGW operators and machinists learned and dialed in the machine for themselves. The JuanaRoll also includes two digital cameras within the machine and Paxiom provides free online support via internet connection.
"Paxiom did spend quite a bit of time on-site with us training, going through the machine, discussing every part of it, and working with it," Claire O'Hern adds. "With any equipment you get, there's going to be some pain points. There's always a learning curve since it's a new piece of equipment with lots of electronics. But Paxiom has very knowledgeable individuals, and they didn't hesitate to get on virtually with anyone from Canada or send out their tech support to be able to help us through it. They were even able to remote into the equipment, too, when necessary."
JuanaRoll system in action
Once in action, the JuanaRoll made a big difference in production. To review, prior to this pre-roll automation, NGW was producing 5,000 pre-rolls per week, using nine operators. Today, with the system up and running, the company averages approximately 13,000 to 16,000 pre-rolls per day (approaching or exceeding 100,000 per week), based on strain. What's more, each shift now consists of only two operators. Here's how the system works.
A monobloc piece of equipment enclosed by transparent panel doors, the JuanaRoll has two primary infeeds: one for the milled cannabis flower, and the other for the pre-roll rolling paper cones that the product will be filled and tamped into.
The milled cannabis is introduced to the JuanaRoll system by filling it into canisters that, during production, will reside within the JuanaRoll monobloc. These act as fillers that hover above a transport line that runs beneath. The number of canisters depends on the number of lanes in each system—the NGW system uses eight lanes, so there are eight canisters filled with milled cannabis product at the start of a cycle.
Meanwhile, at the pre-roll infeed nearer the head of the machine, an operator first selects the correct strain and recipe specs into an HMI at the front of the monobloc. This is key since there are so many different cannabis strains, potencies, and properties (like stickiness, grain size, paper thickness, etc.) that each requires a unique, highly specific set of handling specs, pressures, and instructions.
"With really any equipment you use in cannabis, you really need to be able to narrow down your recipes to a very specific spec, based on the strain you're using," Claire O'Hern says. "The equipment runs all eight lanes of the same strain at any given time. They're tamping with the same amount of pressure to press the product down into the pre-rolled paper cone, and the amount of pressure can change by strain. You have to be precise."
Once dialed in with the correct strain and recipe on the HMI, the operator places nested stacks of pre-roll cones into magazine infeeds that serve to feed each of the eight lanes. At this point, the JunaRoll is literally "ready to roll." When the system begins its cycle, the cones in each of the eight lanes are automatically denested and oriented to be filled.
"And then those cones will be brought through the equipment and filled from the canisters, and then tamping rods will come and pack product down into the cones," Claire O'Hern says. "The cones will continue through the line where they're twisted [closed], cut [to remove excess twisted paper], and gently dropped out of the monobloc into a bin, ready for secondary packaging."
Two operators are used to run the JuanaRoll system at NGW. One acts more like an engineer or operator, making sure that it's running properly. The other person is tasked with filling canisters and loading cones.
Washdown and changeover
As Claire O'Hern makes abundantly clear, each strain of cannabis is unique and has a specific set of properties—potency, for instance—that must be clearly labeled on the finished product's secondary packaging. That means each batch must be treated carefully to avoid cross-contamination, and a careful washdown must occur between SKU runs.
"We also spend quite a bit of time cleaning the equipment to maintain it and keep it in good working order," Claire O'Hern says. "Cannabis is notoriously sticky. If you aren't cleaning equipment regularly and spending the time, then your equipment tends to fail. We researched the types of equipment that were out there that did this, and the JuanaRoll did seem a little bit easier to clean and keep clean."
Both of Slims brand's sizes—0.5-g Slims and 1-g XL—run on the same JuanaRoll system, so sometimes changeovers require changeparts and lane-size alterations beyond a simple washdown. In this case, NGW has a machinist on-site who they say has become "the JuanaRoll guru," able to make a quick changeover.
Aftermarket service and support
The O'Herns opted to equip the JuanaRoll system both with data collection for their own continuous improvement, and remote access capabilities. The remote access was valuable in the early stages of commissioning, as mentioned above, when Paxiom was able to troubleshoot from afar, even across borders that were closed. But the incremental benefits of data collection are already making an impact on production.
"We have the JuanaRoll connected to our servers for reporting purposes," Claire O'Hern says. "We have our preventative maintenance schedules hosted elsewhere in the facility, and every time we receive a new piece of equipment, we build out and plan for a preventative maintenance schedule. But there are always times where we have to do unplanned maintenance on equipment since parts fail, seals fail, gaskets fail, all sorts of things happen. As we learned the machine, we learned there were certain parts where we need a few extra on hand so we can always be operational. And so, we do have those on hand, and Paxiom's very good about the warranties on the parts that it supplies."
What's next
As often happens, automation begets more automation. With the huge throughput and volume increase that NGW experienced—from 5,000 pre-rolls per week to nearly 100,000—the JuanaRoll has revealed the need for more automation in secondary packaging, which is still all done by hand. The pre-rolls are still hand-loaded into five-pack tins or J-tubes, and then packed into corrugated 50-ct shippers to be sent to dispensaries. So, the company is currently in talks with Paxiom to see what can be done in secondary packaging to help keep up with the new JuanaRoll system. But that's really a good problem to have, for the O'Herns.
"Paxiom represented the machine properly, and I'm glad we made the purchase," Claire O'Hern concludes. "What they said was going to occur with our production has, and we're happy with it."