Leading industrial laundry operator boosts efficiency and reduces manual labor costs in its facecloth packing operation with larger-than-life automatic vertical bagging machine.
By George Guidoni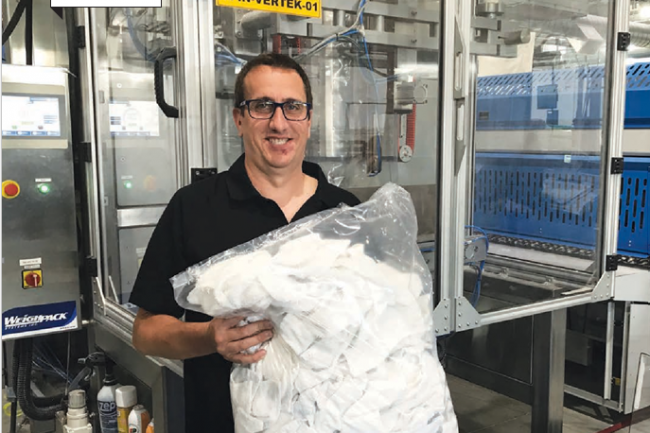 If cleanliness is indeed the next closest thing to godliness, then doing god's work is all part of the job for the 300 or so people working at Blanchelle in Montreal. Founded in 1977, the commercial laundry operator is one of the region's biggest suppliers of clean linen, bedding, towels, gowns and other essential daily textiles to local hospitals, clinics, laboratories, nursing homes and other healthcare facilities with exceptionally high standards and requirements for hygiene and sanitation on around-the-clock basis. Operating two Health Canada-certified plants in the Montreal region—including a brand new 60,000-square-foot facility opened up in 2021 in the city's off-island suburb of Mascouche— Blanchelle provides its comprehensive turnkey services, including on-site pickup and delivery, to hundreds of healthcare institutions stretching as far south as Vermont in the U.S., as well as to Quebec health providers located up to about 100 kilometers north of Montreal. "What makes us unique in this business is the fact that we focus exclusively on serving the healthcare community," says Blanchelle's director of operations Mario Ferron. "Many other industrial laundries also service the hospitality and foodservice industry customers," Ferron says, "but for us focusing on hospital and longterm care facilities was a strategic decision from the start, allowing us to develop a very specialized skillset and to build long-term relationships with our healthcare customers."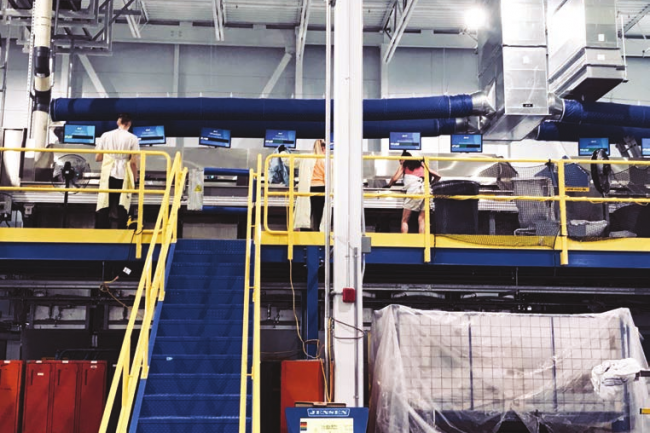 To serve its client base, Blanchelle operates both of its plants over a oneshift, six-day-a-week schedule to clean and sanitize close to a million pounds of bedding and linen per day for both locations. To handle these massive loads, the plants employ towering, high-capacity tunnel washers—manufactured by leading global automated laundry equipment supplier Jensen Group—to completely wash and sanitize individual pieces of fabric in a highly-automated process. Those tunnel washers each provide around 120 kilograms of clean linen every two minutes. "These are just about the biggest laundry washers that you can find on the planet," says Ferron, citing the machine's 16-compartment design whereby each compartment provides one of the 16 different washing/rinsing/steaming/ chemical treatment and other process stages in perfect repeatable sequence to achieve maximum cleaning and drying.
According to Ferron, having high-capacity machinery is critical to Blanchelle's operation to make up for any unexpected machine downtime due to power outages of other factors outside the company's control. "Because we operate as an essential service, we do not have the luxury of postponing any work until the next shift or next day," says Ferron, adding that Blanchelle prides itself on self-sufficiency and problem-solving. "Any lost production we may experience will have to be made up on that same shift: that's why we have some redundancy built into our process with the two plants. "We have a huge number of [machine] parts in stock at all times," he says, "as well as some extra production capacity with the high-volume laundry equipment. "We need to be able to take care of all our problems ourselves."
One of the problematic areas that Ferron has been able to address successfully at the new Masouche facility was making the process for bagging freshly-washed face cloths a much more efficient and automated process than it has ever been in the past. As Ferron relates, the washing and cleaning of face-cloths is by far the least profitable part of the business for a company that charges its customers by weight (kilograms), which makes small, loose and lighweight items like facecloths "a major loss-leader," according to Ferron. "Despite losing money on it, it's an essential product and service that we have to provide as part of our turnkey services," says Ferron, adding the Masouche plant processes roughly about 150,000 face and wash cloths per day.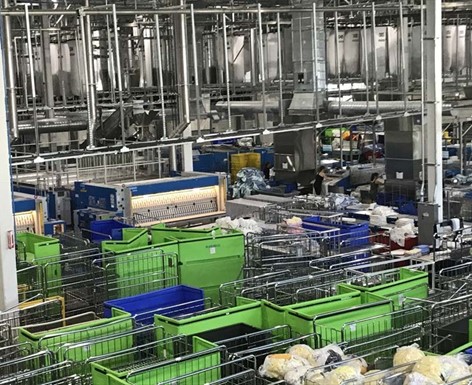 "So the challenge for us was to minimize those losses," says Ferron, who took it upon himself to scout the market for a suitable solution to automate what was a highly manual labor-intensive process of handling and bagging the facecloths. During his market research, Ferron says he heard a lot of good things about the high-quality, high-throughput automated bagging systems manufactured by Montreal-based WeighPack Systems Inc., part of the Paxiom Group of companies, which had already completed a couple of successful machinery installations for some large-scale commercial laundry operators in and around Montreal.
After contacting WeighPack and receiving what seemed like a fair and reasonable proposal, Ferron proceeded to place an order for WeighPack's VerTek 2400 vertical form/fill/seal (VFFS) bagging machine, which would come online to coincide with the opening of the Masouche plant in early 2021. According to WeighPack, the heavy-duty VerTek 2400 VFFS machine is engineered for the toughest and heaviest of filling applications, and it can produce pillow or gusseted pouches up to 600-mm (24 inches) in width.
The machine's welded tubular steel construction makes it perfect for any bulk packaging application and any tough working environment—having been used for bulk packaging of hop pellets, confections, pet food, rice, beans, flour, powders and polymers—while ensuring superior sealing on a wide variety of film structures, including laminate, metallized structures and polyethylene. As with all major machine installations, the commissioning of the VerTek 2400 bagger had a few technical challenges to overcome in the beginning, but they were soon resolved by WeighPack' technical support team—providing the Masouche plant with a highly reliable and efficient packaging solution for its facecloths. "It runs pretty much all day long, producing four to six bags per minute," Ferron relates, using clear plastic film supplied by Gel-Pak.
"We put roughly 100 cloths inside each 2.7-kilogram bag processed by the VerTek," says Ferron, adding the machine is capable of much higher throughput speeds if required. "Compared to what were doing before manually, this purpose-built machine was a great improvement to our operation," says Ferron, citing a four-fold improvement in labor productivity for this particular task. As he explains, its used to take up to 12 people to pile the clean washcloths, put them onto a conveyor, bag them and seal them, and move the finished bags on to the awaiting mobile carts. "With the VerTek machine, the process only requires three people to feed it and direct the finished bags to where they need to go," says Ferron, adding the line still relies on human visual inspection to ensure optimal final product quality. "I believe that we're going to see automated inspection soon to make this technology even more efficient," Ferron notes, "but for now it is just not as reliable as human inspection for detecting all the little things. "Nevertheless, we already see future possible applications possible with this machine for other types of products, or for using different films and bag sizes," Ferron says, "and we plan to work closely with WeighPack to explore all those possibilities.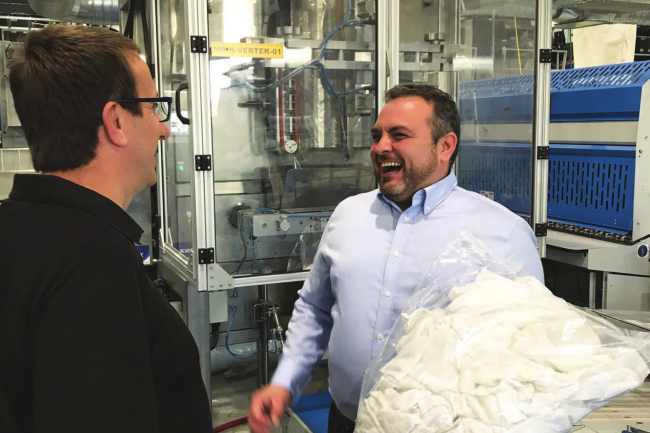 "As a company, we are always keen to be the first ones out there with the new technologies and new processes to add value to the services we provide," Ferron states, adding he has been very satisfied with the VerTek 2400 machine's reliability and performance so far, as well as WeighPack's technical and training support. In fact, Ferron says he is seriously considering installing another VerTek 2400 bagger at the company's other Montreal location, whose older existing bagging machinery lags behind the VerTek solution in virtually every respect in terms of performance and maintenance requirements. "It's a very robust piece of equipment that has proved to be very reliable and consistent in an application for which it was not primarily designed," he notes. "But it has performed this application very well for us, thanks to all the input, support and advice we got from WeighPack." Adds WeighPack's territory manage Andre Strul: "The VerTek 2400 is the largest single piece of equipment we manufacture: it's a real behemoth. "It's typically used in a wide range of industries that require bulk packaging into very large bags—installations including fibers, frozen, fresh and pet food, powders, injection-molded pieces and more.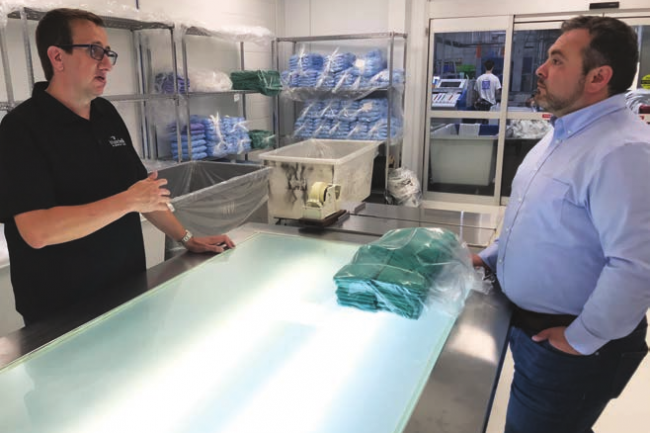 "Blanchelle's customers are some of the biggest hospitals in the province of
Quebec," Strul points out, "so 24/7 operation is a critical capability for them. "Thanks to the machine's integrated film slicing option, there is no need to stop production to accommodate a roll change," Strul says, "while the machine 'cruising' speed of four to six bags per minute, depending on the quantity, is sufficient for their needs right now. "Manual packing of towels is a very hard job to do all day long, so installing the VerTek 2400 has enabled Blanchelle to significantly alleviate the physical strain on its employees," he sums up. Adds Ferron: "We knew from the start that this VerTek machine was not specifically designed to do what we do, so it was very much a judgement call on our part. "But having made that call, we are very pleased with how things have worked out," says Ferron, praising WeighPack's commitment to seeing the project succeed even during the "challenging" circumstances caused by the COVID-19 pandemic. "It made things somewhat complicated in terms of meeting all our original deadline," he concludes, "but I give WeighPack full marks for helping us succeed in this project and for being a great partner to work with."