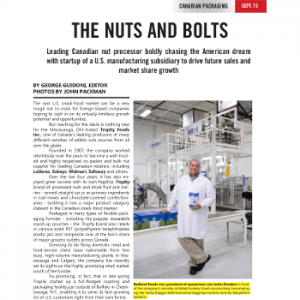 Leading Canadian nut processor boldly chasing the American dream with startup of a U.S. manufacturing subsidiary to drive future sales and market share growth.The vast U.S. snack-food market can be a very tough nut to crack for foreign-based companies hoping to cash in on its virtually-limitless growth potential and opportunities.But reaching for the starts is nothing new for the Mississauga, Ont.-based Trophy Foods Inc., one of Canada's leading producers of many different varieties of edible nuts sources from all over the globe.
Founded in 1967, the company worked relentlessly over the years to become a well-trust-ed and highly respected co-packer and bulk nut supplier for leading Canadian retailers, including Loblaws, Sobeys,Walmart, Safewayand others. Over the last four years, it has also en-joyed great success with its own flagship Trophybrand of processed nuts and dried fruit and ber-ries – served straight-up or as primary ingredients in trail-mixes and chocolate-covered confection-aries – building it into a major product category stalwart in the Canadian snack-food market.
Packaged in many types of flexible pack-aging formats – including the popular resealable stand-up pouches – the Trophybrand also retails in various-sized PET (polyethylene terephthalate) plastic jars and composite cans at the lion's share of major grocery outlets across Canada. Servicing its far-flung domestic retail and food-service client base nationwide from two busy, high-volume manufacturing plants in Mis-sissauga and Calgary, the company has recently set its sights on the highly promising retail market south of the border.