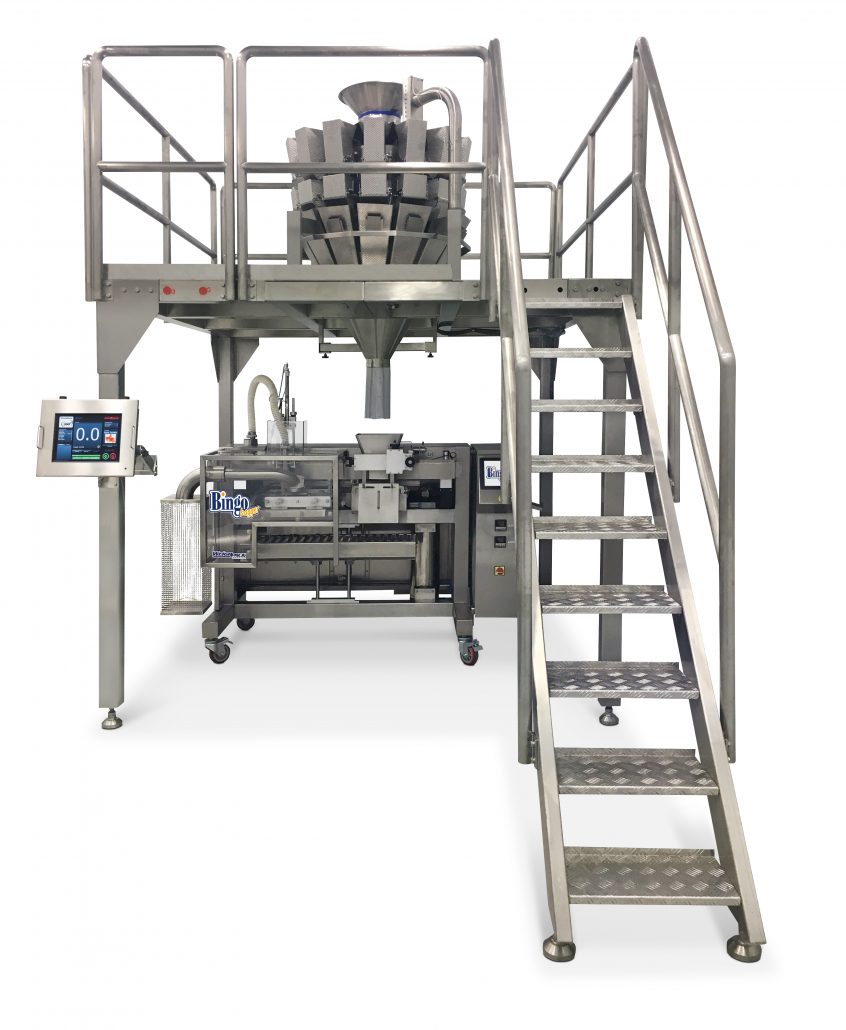 Recognized as one of the respectable global leaders of packaging machinery, Paxiom Group
excels when it comes to delivering packaging solutions throughout the world for
varied and diverse applications.
We have excelled in building long-lasting relationships with our clients by offering
automated weigh filling, bagging, container filling and conveying solutions. Among those many
packaging solutions, one of which is the bag filling that consists of different types of bag filling
machine solutions including:
Bingo Bagger is perfect for bulk packaging requirements as it is capable of running 20lbs
of product. Also ideal for multipacks, food service, and institutional, this bag filling
machine can perform Modified Atmosphere Packaging (MAP) on various bag styles in
order to extend the shelf life of the product.
Standard model
Bag Widths: 8 to 14"
Bag Lengths: 8 to 20"
XL model
Bag Widths: 14 to 20"
Bag Lengths: 14 to 24"
Zippy Bagger is equipped with a rotary heat sealer functioning as a continuous sealer for
higher speed applications of up to 35 bags per minute. Featuring a compact and mobile
design, this bag filling machine can easily fit into any production area and operated in
several locations.
Bag Widths: 6 to 14"
Bag Lengths: 6 to 20"
VS Bagger is for applications that do not require sealing while at the same time it can be
easily integrated with an existing sealer or locking device. It has adjustable wicket pins
for simple and quick changeovers.
Bag Widths: 6 to 14"
Bag Lengths: 6 to 20"
VerTek Series can form, fill, and seal vertical bags or pouches from 2 inches up to 24
inches wide. Engineered to provide value, ease of use and service to its users, the VerTek
series comes in four models:
VerTek 800
Bag Widths: 2 to 8"
Bag Lengths: 3 to 12"
VerTek 1200
Bag Widths: 3 to 12"
Bag Lengths: 3 to 16"
VerTek 1600
Bag Widths: 10 to 16"
Bag Lengths: 6 to 18"
VerTek 2400
Bag Widths: 10 to 14 inches
Bag Lengths: 8 to 20 inches"
R2B Horizontal Form Fill & Seal Bagger is a servo-driven horizontal form fill and seal
bagger machine that can create various bag styles eliminating the additional cost of
purchasing pre-made bags. One of its additional upgrade options is gas flush which can
be used to extend the shelf life and preserve the quality of your product.
Bag Widths: 3.5 to 7.75"
Bag Lengths: 5.5 to 11"
Swifty Bagger is a family of pre-made pouch machines designed to open, fill, and seal
pre-made pouches and stand-up bags in one automatic process. Available in three models,
all our Swifty bag filling machines can operate on a selection of bag styles, including 3 or
4 sided seal pillow pouches, stand up pouches, gusseted and quad seal bags.
Swifty Junior
Up to 15 bags per minute
Bag Widths: 5.5 to 11"
Bag Lengths: 5.5 to 15"
Swifty 1200
Up to 30 bags per minute
Bag Widths: 6 to 12"
Bag Lengths: 8 to 18"
Swifty 3600
Up to 45 bags per minute
Bag Widths: 3.5 to 8"
Bag Lengths: 6 to 11"