Chicago has made it to the bucket lists of countless people across the world–something that no one dares to question simply because it's one of America's finest tourist destinations. For starters, Chicago is about food traditions. We're not just talking about pizza and hot dogs here, but also the famous jibarito sandwich. We don't know about you, but if you'd ever get a chance to visit the city, then make sure to try this local food. Chicago is also known for having dozens of skyscrapers. The tallest high rise building it currently has is the Willis Tower, standing stall at 1,451 feet. If you prefer to dip your toes in the sand and get some Chicago sun, you can check out the shoreline of Lake Michigan. It has several wonderful beaches and most of them even host fun activities like volleyball, cycling, and yoga.
Packaging machines in Chicago, Illinois
With over 25 years of experience in the packaging industry, the Paxiom Group has come a long way. Our packaging solutions have been utilized across the globe for diverse applications. From primary to secondary packaging machines and systems, we manufacture them all whatever production budget and requirements you may have. One of our company's pride is our Horizontal Form & Seal packaging system.
Introducing the high-performance R2B packaging machine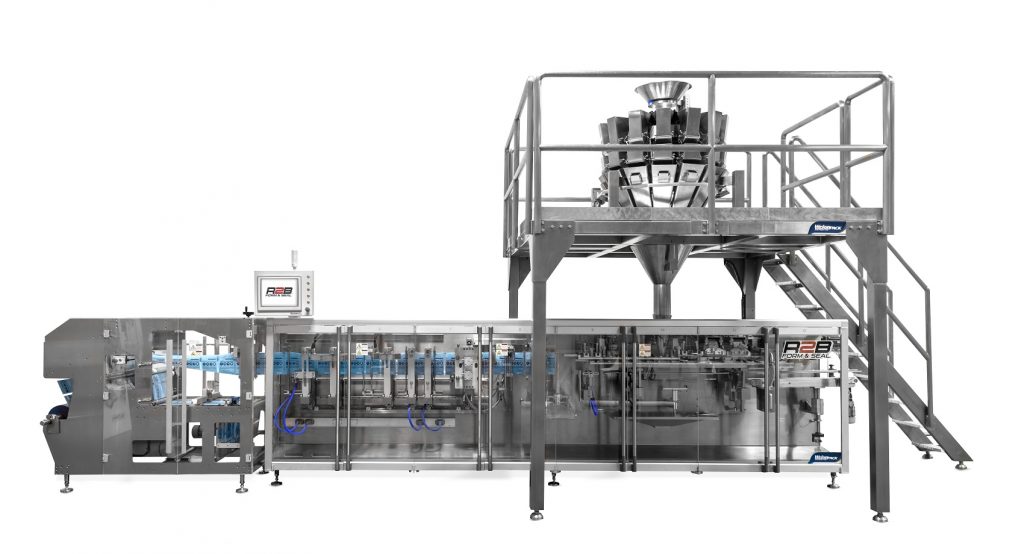 Form filling and sealing is a three-part process that typically uses film to produce a certain style of bag. The packaging machine folds and seals the film into a bag while the product is being filled. In this case, R2B involves sealing a pouch using a horizontal plane wherein ends are cut side to side.
This bagger is designed to form, fill, and seal pouches in a single automatic cycle. It is driven by servo technology and can conveniently create various pouch styles including 3-sided and 4-sided seal pouches, either with or without a zipper enclosure. It uses a laminated film as the primary pouch material for all styles. Since the R2B packaging machine creates its bag, you would no longer have to spend on pre-made bags.
It is engineered with a smart positioning logic to allow accurate control of the machine when operating and setting it up. It also comes with large front and back access panels, which are and removable so it'll be easier for you to clean and service the R2B bagging machine. This horizontal sealing machine is designed with a straight flow style so the operator can have an unobstructed view of all three processes: forming, filling and sealing. The linear design also allows for more convenience when accessing the parts of the R2B.
Aside from a faster production time brought by the automated operations, HFFS machines are also relatively inexpensive. That is because they don't just eliminate the need to purchase pre-made bags, but also because they can close up products without using expensive materials.
Bag size capacity
The R2B Horizontal Packaging machines are manufactured to accommodate bags and pouches with sizes ranging from 3.5 to 7.75 inches wide to 5.5 to 11 inches long.
Want to discuss how our packaging machinery systems can improve efficiency for your Chicago based business? Contact us today.