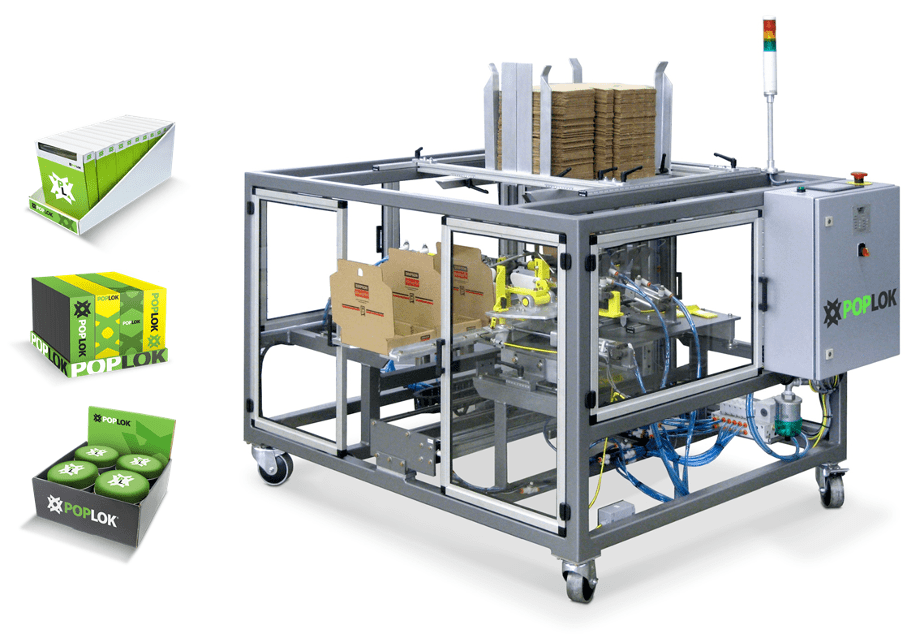 We manufacture a wide variety of corrugated tray forming machines for various tray styles. Engineered to the exact needs of our customers, all our tray formers are built with pride, care and with in-depth details. Paxiom's tray forming machines come in two brands. These are PopLok and Vassoyo. Each are manufactured under one of our leading packaging machinery manufacturers, EndFlex Packaging.
To start with, we have the PopLok brand of corrugated tray former specifically designed to automatically fold and tuck die cut trays. With PopLok, you no longer have to fold your trays by hand. Ideal for packaging food, consumer goods, hardware, electronics, and more. The PopLok is made with service in mind. It has a low maintenance cost since it does not require expensive change parts for multiple tray sizes. Our PopLok brand of corrugated tray formers are available in two models:
PopLok Top Sheet Feed
This tray former is equipped with high-capacity X-Lift hopper that is able to hold XL blanks and transfer them one-by-one to the folding and forming section of the machine. Built with a servo-driven top sheet feed mechanism, this tray forming machine allows a quick and accurate feeding of the blanks to the forming section. Moreover, it does not require a mandrel; hence, the forming section can automatically fold and tuck trays in various sizes. In addition, it can form as many as 12 large trays in one minute (with or without a lid).
PopLok Tray Erector
The PopLok Tray Erector is applicable to various tray styles such as the 5-tuck display tray, swing-lock 2-tuck, tray with lid 2-tuck, tapered 2-tuck, octagon 4-tuck, and 2-tuck tray. This heavy-duty corrugated tray former is designed to load tray blanks using the high-capacity hopper, pull the blanks individually into the forming section, erect the panels of the tray, fold the minor flaps, and then fold and lock the roll-over flap in place, then finally, discharge the corrugated tray from the machine.
Moving on, we have the second and last brand of corrugated tray former, the Vassoyo product line of automatic tray forming machine designed to erect trays of multiple sizes and configurations using a hot-melt glue system. Our Vassoyo tray formers are all designed to mechanically pull one blank at a time, fold and glue major/minor flaps of the tray, then discharge the corrugated tray from the machine.
Corrugated Tray Former Machinery Lineup
Vassoyo Mechanical Tray Erector
Built with a heavy-duty welded steel frame, the Vassoyo Tray Erector can form up to 40 trays per minute, regardless of the model. Applicable tray styles include a full range of four corner glue trays such as side and end slotted, one and two-piece telescope style trays, and design style containers with a cover.
VassoyoAir Breaker Box Tray
Specifically designed to erect Breaker and Column Case style trays in either triangle corner or L-corner posts configurations. The VassoyoAir Breaker Box Tray can cater to several industries including seafood, meat, poultry, and beverage. It features a quick size changeover thanks to its hand wheels. It also features a digital readout and scales built with quick release handles.
 VassoyoAir Triangular Corner Post
This certain corrugated tray former automatically erect trays in triangle corner post configurations with applicable tray styles. For example, RSC style flaps or no flaps creating a retail-ready tray with a display window.  Commonly used for industries like consumer goods, beverage, confectionery and snacks. The VassoyoAir Triangular Corner Post promotes low maintenance and reliable operation with its Venturi style vacuum system.