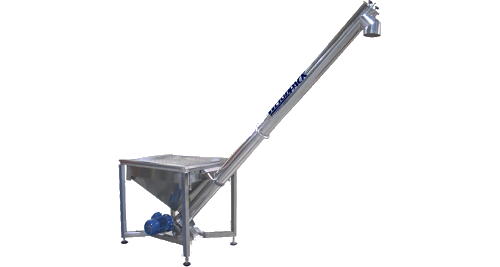 The conveyor is an equipment used to move a product, a package, or a packaged product from one point A to point B, which is why conveyors are imperative in any packaging environment. In addition, conveyors come in various shapes, sizes, and styles. In fact, depending on the task, they can be classified into many categories and some of those are incline, infeed, bucket, and screw. At Paxiom, our conveyors are engineered to operate on food products as well as non-edible items. Coming from the world-famous brand, WeighPack Systems, our food conveyors are guaranteed to deliver efficient, consistent and reliable services to our customers.
Incline Infeed Food Conveyor
First off, we have the Incline Infeed Conveyor to transport your raw products from ground level to our weigh filling machines. Constructed with a heavy-duty stainless steel frame, this food conveyor can survive even the harshest environments. With this conveying machine, you can now safely and consistently covey a wide variety of your products to a multi-head weigher or linear net-weighing scale. Due to its quality construction, our incline infeed conveyor offers benefits like easy sanitation, changeover, and simple maintenance, improve product safety, decrease cleaning time, and increase productivity. Perfect for cheese, meat, poultry, granules, and other seasonings, this food conveyor can be upgraded to a seamless polyurethane belt for fast, efficient cleaning. Other features include plastic cleated belting, AC variable speed motor drive & control, adjustable product discharge pan, 1.5 cubic feet stainless steel hopper, and casters for easy mobility.
Bucket Food Conveyor
Next is our Incline Bucket Conveyor that works great for small spaces since they are designed with very compact footprints. Designed to feed a wide variety of automatic filling machines, our bucket conveyors are commonly used in work areas that have limited working space. Moreover, its individual feed buckets are easy to remove and access making it ideal for dry fill applications. Its features include a 304 stainless steel construction, polypropylene plastic buckets, 2 quarts (2.3L) bucket capacity, and a 10" (300 cm) discharge height.
Screw Food Conveyor
For our third and last food conveyor, we have the Incline Screw Conveyor that is equipped with a rounded hopper that promotes better product flow. Designed for powder filling application, our screw conveyors are highly accessible when it comes to cleaning. Aside from rounded hopper, all our incline screw conveyor also have a hopper vibrator and a convenient two-piece feeder screw, which can be easily disconnected so that cleaning can be done with just one person. Its features include stainless steel contact parts, motor, gear reducer, safety guard for the hopper, and casters.