Packaging Machines for Idaho Businesses
With its rich heritage, welcoming neighborhoods, and the not-so-subtle vibe of the mountainous American West, Idaho is a highly culturally inspired state that could easily win the hearts of its visitors. Starting with Sun Valley Resort, this place in southern Idaho is a magnet to skiing enthusiasts and winter sports fanatics. Even during summer, the resort is a great place for hiking, mountain biking, and other outdoor adventures. The state of Idaho also takes pride in its classic Lake Coeur d'Alene, which is believed to have existed during the last Ice Age. This mountain-ringed lake is 25 miles long and is encompassed with a forest bursting with hiking trails.
And speaking of attractions that are "oldies but goodies," Yellowstone National Park is another precious gem of Idaho. It was established in 1872 as the very first national park in the country, with the park extending towards several states including Wyoming and Montana. This park is also one of the most active geothermal lands in the globe, so volcanic activity and geysers are normal. Want to stay the night surrounded by rugged mountains in a rustic resort high up? Burgdorf Hot Springs is located in central Idaho and lets you experience how to live for once without electricity and running water.
How horizontal form fill and seal machines work
Commonly known as HFFS machines, horizontal wrappers consist of an infeed conveyor, a back stand, a film-forming station, a bottom sealer, a cutting head, and a discharge station. Products used for this kind of machines are placed on the infeed conveyor of the HFFS machine, either by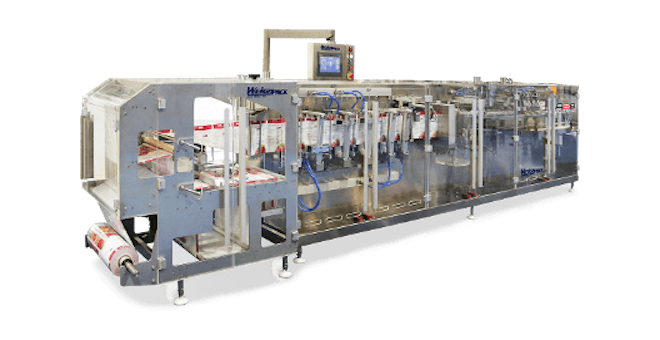 handloading or using an automatic feeding system. The infeed conveyor then conveys the product to the former with the film feed assembly drawing out the film and sending it to the former.
In the forming station, a film tube is formed around the product and a bottom seal is also added. Afterward, the product along with the film tube is transferred to the cutting head. In there, end seals are created while the cutting head cuts off the adjoining wrapped products to separate them into individual packages. Next, the packages are conveyed to the discharge station. From there, the packages can either be packed on a case or gathered for packing at a later time.
2 most common types of a horizontal packaging machine
Flow wrapping is a horizontal synchro-motion process for products to be packaged in pillow bags. The wrapping material is typically a hot sealable plastic film or a paper film. The 2 most widely used types of flow wrapping packaging machines are:
1. Film upside feeding
This is where the film carrier is built at the upside of the flow wrapper and the products are fed onto the infeed conveyor, then finally, pushed into a film tube for wrapping. Film upside feeding wrappers deliver fast production rates and are perfect for solid products like bread, biscuit, candy, and chocolate, just to name some. On the contrary, it isn't suitable for bulk shape items or sticky products since such products aren't stable or resilient enough to be fed by the pusher.
2. Film inverted wrapper
This type of wrapper packaging machine is designed with the film carrier located at the bottom side of the machine. And in there, the products are fed or loaded to the film surface, carried by the film for sealing, then cut. Film inverted wrappers are ideal for solid shape products, whether these products are sticky or in bulk. However, unlike the first type, an inverted wrapper has a lower production speed due to changes in product position.
SleekWrapper for your wrapping solutions
Part of the Paxiom Group, the SleekWrapper brand is composed of horizontal flow pack machines that are specifically engineered and designed to cater to your unique needs. Our product line is quite wide, capable of accommodating your various production rates, be it for entry-level, mid-rates, or high-speed applications.
1.Sleek 40
Capable of creating packages with a maximum web width of 15.5 inches, the Sleek40 has 4 servo motors to provide a fast and easy changeover and adjustment.
2.Sleek 45 and 65
Like any other SleekWrapper model, our Sleek 45 and 65 are constructed with simplicity, reliability, and serviceability in mind. Thanks to its servo motors, our flow wrapper lowers your product and film waster while also delivering inexpensive maintenance costs.
3.Sleek Inverted
Designed uniquely from other SleekWrapper models, our inverted flow wrapper is specifically configured to handle sticky or soft products, bulk, and other items that aren't good to be pushed with the lug chain.
4.Breezy Bagger
This compact bagger is capable of using horizontal wrapping and vertical bagging by simply using its pivoting feature.