Packaging Machine Systems in Oklahoma
Oklahoma is a gateway to the flat golden plains of the West and the lush rolling hills of the East, making it a perfect place to enjoy its beautiful lakes and rivers. Home to the largest cities, Tulsa and Oklahoma City, the charm of this state lies in its diverse range of attractions. Kickoff your day with gorgeous natural scenery at Beavers Bend State Park located along the shores of Mountain Fork River and Broken Bow Lake. If you're into museums but also have a special appreciation for outdoors, go to Chickasaw Cultural Center situated in a huge greenery land at Sulphur. The place gives you a great experience at the Native American history of Oklahoma while being surrounded by stunning landscaped features.
It's not every day that you get to visit a wildlife preserve, so seize the chance when you can. Visit Woolaroc Museum & Wildlife Preserve in the Osage Hills. It's a 3,700-acre property that provides habitat to many exotic and native animals like elk and longhorn cattle. Aside from the preserve grounds, you can also take a look at their museum and see a collection of Colt firearms. They also have a small lodge you can rent for the night, giving you more time to explore the property.
Paxiom offers Vertical Form and Seal solutions
Vertical form, fill, and seal machines are a type of flexible packaging machine that's commonly used for efficiently and effectively packaging a wide range of products. VFFS packaging machines are applauded for their broad application. For example, a single machine is capable of producing various bag shapes. This is made possible through a simple changeover of machine parts like forming tubes and forming shoulders. At Paxiom, we manufacture our own product line of vertical packagers under two brand names: VerTek and XPdius.
To start with, we have the VerTek 800 and VerTek 1200 that can form pouches 8 to 12 inches wide. VerTek 800 has a mechanical rating of 60 cycles per minute while the more advanced VerTek 1200 has a maximum speed of 50 cycles per minute. Whether you need a pillow-style, stick pack, or gusseted bags, our VerTek line can make that happen. Both are equipped with a 304 stainless steel frame that allows a sleek design and better accessibility for maintenance. They also feature a simple swiveling mount for an even and precise vertical seal at the back.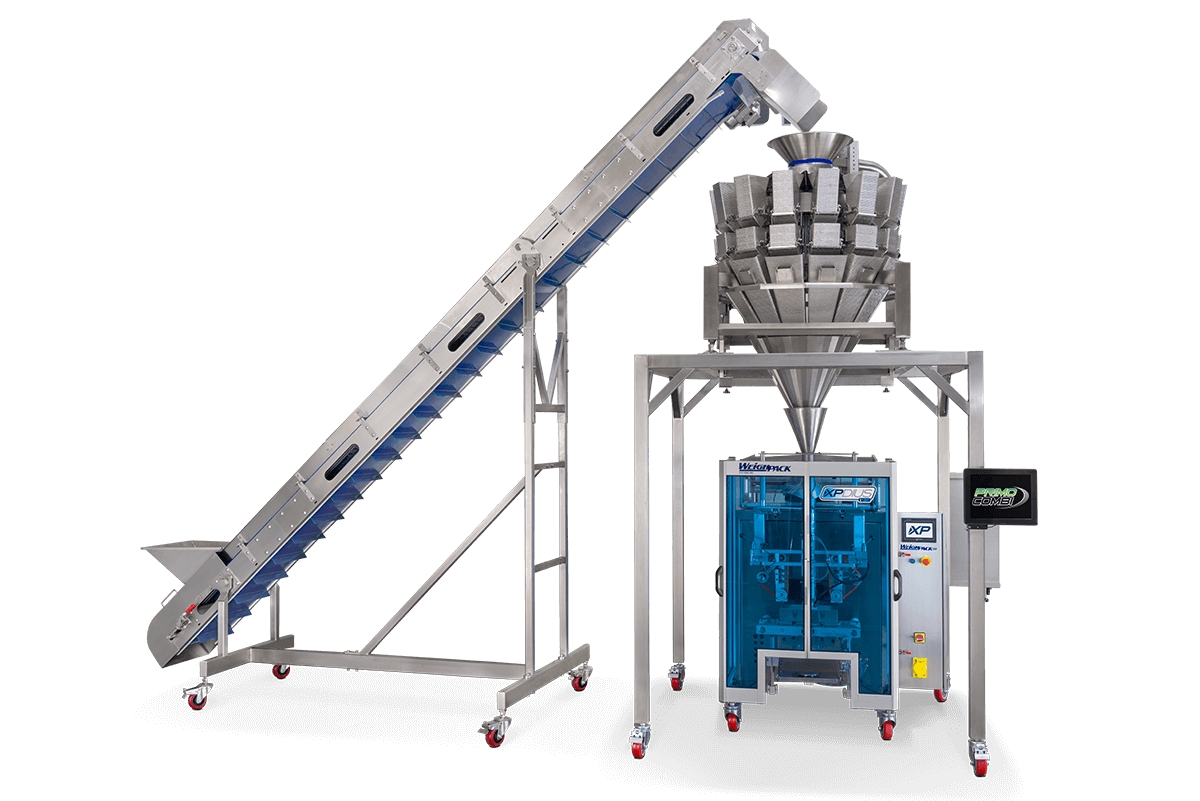 Another vertical form fill and seal machine are the XPdius i-130 that offers high-speed applications. Featuring several tool-less components, using this vertical machine will save you tons of time when doing changeovers, loading film, and replacing pull belts. Its leading-edge construction materials help maintain the value of the machine while also providing reliable and long-term operation. Built with efficiency in mind, our XPdius comes with Lexan doors, removable forming assembly, and quick film reload. Our VFFS machines are suited to four main groups of products including powders, granulate or grains, bulk goods, and liquids.
Advantages of VFFS packaging machines
Low cost
One of the best parts of having a vertical bagger is its low price. This machine provides high application speeds and can be easily maintained and optimized to deliver uninterrupted operation for a long time.
Different materials
A broad variety of packaging materials can be processed using vertical form machines. That said, virtually every product requires a distinct set of packaging standards. For instance, screws shouldn't be able to poke through the packaging, the essence of any aroma products shouldn't be lost, or snack foods have to remain crispy.
Air-tight
A frequent requirement by manufacturers is that the packaging machine should be capable of producing an air-tight package. Also, another type of protection that many products need is the modified atmosphere package or MAP in short. It's where the air in the packaging is taken out then switched with an inert gas to prevent oxidation and prolong the shelf life of the product. Our VFFS packaging machines come with this option so rest assured.
Printing
A vertical form, fill and seal packaging machines should be flexible enough to be easily integrated with any printer or labeler machine. A printer is commonly used to print specific information or dates in the product. Meanwhile, a labeling machine applies label stock that can be printed or pre-printed by the machine within the vertical baggers.
Efficient output
Lastly, regardless of the packaging requirements that need to be achieved, VFFS machines are normally able to deliver efficient and reliable outputs and at a high speed at that.