February 10, 2023 – WeighPack Systems' VF-1200 continuous motion vertical bagger is now available in a sanitary version for high pressure washdown needs.
Engineered for wet, cold and harsh environments where traditional vertical form, fill & seal machines may fail, the VF-1200 prevails. Constructed in stainless steel with the highest IP standards for motors, heating elements, thermocouples, electronics, touch screens and cabinets, the VF-1200 offers its customers a packaging machine that they can be certain has been sanitized to the highest standards.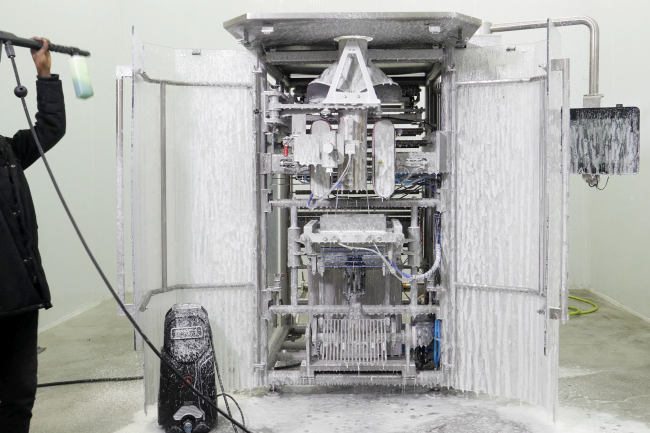 "We feel strongly that our industry requires more solutions for high sanitary washdown to help mitigate any risks of cross contamination or bacterial growth as a result of poor cleaning to ensure that the consumer remains safe" says Nicholas Taraborelli, vice president.
The VF 1200 can handle multiple package formats and produces a wide range of package sizes providing flexibility for both retail and club size packaging for industries ranging from snack foods, confectionery, frozen foods, cheese, seafood as well as meat and poultry.
This continuous motion bagger features vertical sealing bars that are continuously in motion, so the film does not need to stop to receive its vertical seal. This provides an advantage over vertical, form, fill and seal machines with intermittent motion seal bars which only open and close in full sequence, resulting in lower production rates.
Engineered with an open-frame design for easy operator access, the VF 1200 features stainless steel construction, vacuum pull belts, second film roll support, film splice table, Omron motion controller and servos, a 15-inch color touchscreen and tool less removable vertical seal bar, horizontal jaws and forming shoulder.
To learn more, visit https://www.weighpack.com/vertical-form-seal/