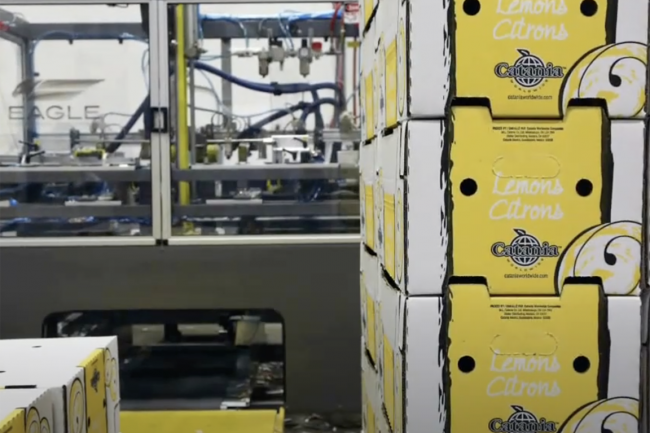 Relationships are built on trust. And trust is earned. Earning the trust of our customers in the ever-evolving packaging automation industry means engineering packaging solutions that meet their specific needs, delivering on the manufacturing timeline we promised and supporting what we deliver with quality integration services and training.
When you can hit those marks consistently time after time and for a variety of customers across a number of industries, then you're not just 'doing business', you're building trust. A relationship built on trust means your customer is more likely to come back to you again, not just because you have a quality product, but because you have a partner that is worthy of that trust.
A Valued Partner
A perfect example of a partnership built on trust can be seen in our relationship with M.L. Catania Company Limited, a fresh fruit importer and distributor in Canada. They have been a trusted partner and valued customer since 2015 when they bought their first VassoyoAir automatic tray forming machine.
They needed a custom-built machine that could form and glue seal their existing corrugated tray blanks. We built the VassoyoAir to their specifications and provided them with the training to operate it efficiently and the custom tools to adapt it to their varying glue configurations.
Over the last few years, as their business grew, so did their need to adapt to the increasing demand for their products. But ramping up the amount of fresh fruit available for shipment to their customers also meant they needed to increase their tray forming productivity within their existing floor space.
A Partnership Renewed
They knew where to come for their packaging solutions and we knew their production and service requirements. It's easy to come to terms on a mutually beneficial resolution when you've worked toward the same goal before, when you trust each other.
So, 5 years later, a new VassoyoAir automatic tray-forming machine sits next to their reliable purchase from 2015, allowing them to double their tray output and ultimately package their fresh fruit twice as fast as before.
"We are very happy with the new machine and the improvements made by EndFlex over the last few years," commented M.L. Catania Vice President of Operations Neil Catania. "We take full advantage of the ability to perform quick changeovers on both machines. We can now produce twice the number of trays right when we need them, freeing up our floor space for other production needs."
EndFlex is proud to partner with M.L. Catania Company and even more proud to do our small part to help them be more successful. We value these opportunities. Engineering automated packaging machines that help businesses focus on what they do best is, well, what we do best. It is why we say we are 'solution-driven and customer-focused'.
How Can We Help You?
Let us help your business be more successful at what you do. We offer a diverse packaging product line that includes case erecting, tray forming, case/tray packing, sealing and robotic palletizing machines.
Whether you need one of our out-of-the-box solutions or you have a complex packaging need requiring a custom solution, we are your trusted single source for automated packaging. Visit the EndFlex website to see all of our end-of-line solutions and then reach out to us. We can't wait to build a new partnership with you.