CANNABIS PACKAGING MACHINERY
As the leader in legal cannabis packaging machinery, we design and manufacturer a wide range of cannabis packaging machines including:
Cannabis flower container and jar filling machines
Cannabis flower zipper pouch filling machines
Cannabis flower bulk wholesale nitrogen and vacuum packaging machines
CBD infused gummy edible container / jar filling machines
CBD infused chocolate wrapping machines
CBD hemp oil tincture and bottle filling machines
Jar and bottle labeling machines
Jar and bottle capping machines
Preroll filling and twisting machines
Excise tax stamping machinery
Turnkey cannabis packaging systems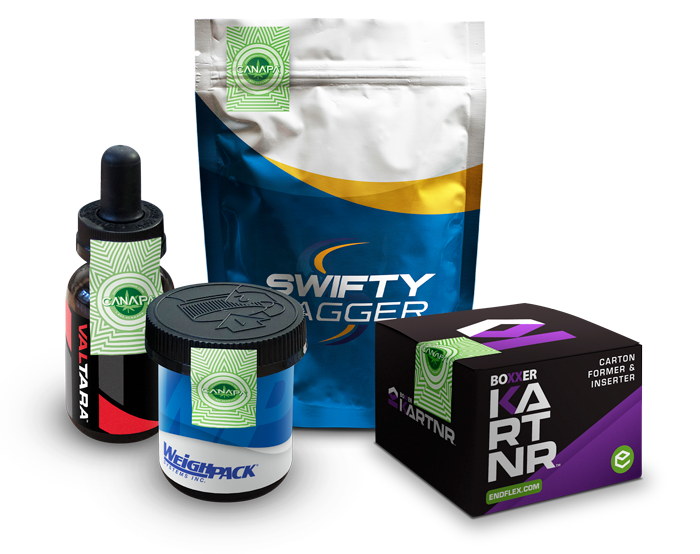 CANNABIS WEIGH FILLING MACHINE
The PrimoCombi cannabis weigh filling machine is the cannabis industries most trusted weigh filler to accurately dispenses as little as 1 gram.
Integrate the PrimoCombi within any packaging system to fill cannabis flower into jars, bottles, containers, cans, pouches, bags and cartons.
The PrimoCombi includes PC controls for convenient production data export in real time to Seed to Sale software as well as offers online remote support.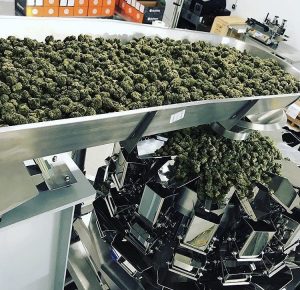 CANNABIS JAR FILLING MACHINE
Cannabis flower packaging has never been easier by automating the container filling process with our wide range of indexing systems for plastic containers, glass jars, cans, and cartons.
Our cannabis container filling machines are engineered to fill your specific jars with marijuana at the desired rates for your application.
We can also provide end of line solutions including labeling, capping, induction sealing and nitrogen flushing. We offer solutions to fit every production and budget requirement from entry level to mid range and high speed applications.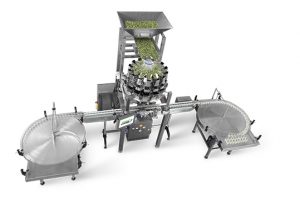 RETAIL ZIPPER POUCH FILLING MACHINE
We offer a wide variety of automated bagging solutions for cannabis including pre-made pouches, zippered bags and using roll stock.
Our marijuana bagging machines are designed to automatically open, fill and seal pre-made pouches.
We offer cannabis packaging machines for both entry level applications, mid range requirements as well high-speed production rates.
In order to keep up with the demands of cannabis bagging requirements we have engineered the Swifty Bagger to operate on a wide variety of bag styles, including pillow, stand-up, gusseted, and quad bags with zipper closures.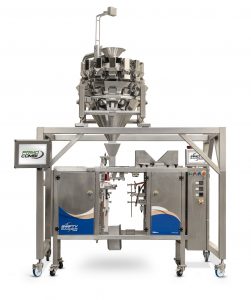 Package cannabis infused edibles with our wide range of automatic flow wrapping machines.
The SleekWrapper family of flow pack machines are perfect for THC and CBD edibles including chocolates, dummies and hard candies.
Simply load your edibles on the conveyor belt and let the packaging machine do the rest. Easily produce from 10 to 200 packages per minute with the appropriate model of SleekWrapper!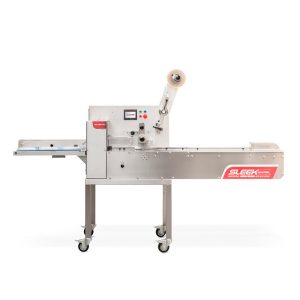 TINCTURE / BOTTLE FILLING MACHINE
The Canapa monoblock family of CBD oil bottle filling and capping machines are available in two models:
30 containers per minute
60 container per minute
This compact monoblock cannabis oil filling machine includes dosing, cap insertion and cap closing all on one single frame.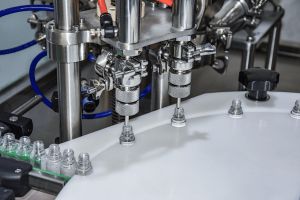 BULK PACKAGING AND VACUUM MACHINE
The Bingo Bagger is the only automatic pre-made pouch bagging machine to weigh, fill and vacuum seal cannabis. This convenient feature greatly reduces labor and improves food safety by eliminating human interaction in the sealing process.
Manufactured with a robust stainless steel frame and food grade contact parts, the Bingo can fill both polyethylene and laminate materials.
VERTICAL CARTON FORMING, LOADING
&

CLOSING
The Boxxer™ Kartnr™ automatic vertical cartoner is engineered to form, tuck and close chip board cartons. This versatile carton forming machine can handle tucked cartons, pop-up / auto-lock cartons or glued cartons
The Kartnr™ carton forming machine is available in two models:
Hand load: The vertical cartoning machine will automatically open and present the carton to the fill zone where a person can hand load its contents. Once loaded, the top lid can either be left opened or automatically tucked or glued shut.
Automatic: The Kartnr™ can include an in feed conveyance system to automatically accumulate product and fill into the carton directly, thus eliminating the need for human interaction.